Climb Kilimanjaro via Rongai Route- 7 days/6 Nights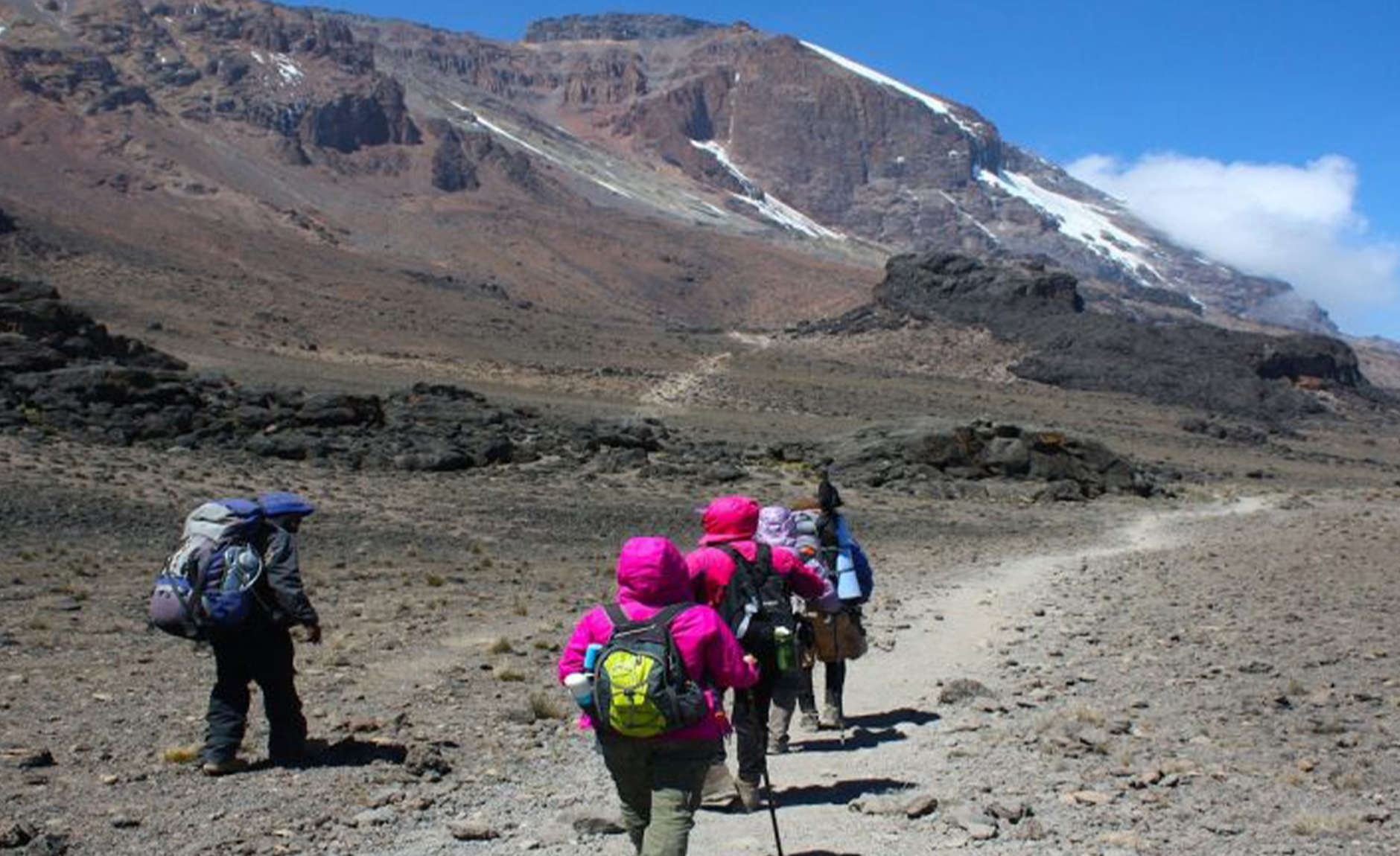 | | | |
| --- | --- | --- |
| 7 Days | Min People : 1 | Yearly Round |
| Min Age : 16+ | Pickup : Airport | Langauge - English |
Description
This is one of Kilimanjaro's easiest routes, and it has become an increasingly popular route in recent years. This route is located on the northern side of Mount Kilimanjaro with a variety of spectacular landscapes together with different plants and animals species. The typical duration for this trip is 6 days. However, you can also add an acclimatization day and make it 7 day climb.
The Rongai Route is more scenic than the Marangu Route and easier than other camping route in climbing Kilimanjaro and the success rate on the Rongai Route is very high. Unlike the Marangu Route where you sleep in huts, on the Rongai Route you sleep in tents, the porter will have your tent pitched and waiting for you at the end of each days trek. This route starts on the north side of the mountain just south of the Kenyan border and is one of the least traveled routes. The route merges with the Marangu Route for the summit climb. The descend follows the Marangu Route on the mountain's southeast side, so you will able see Kilimanjaro from many view points. There are two versions of this trek – a direct 6-day itinerary, and a 7-day itinerary that takes a longer route. The 6-day itinerary is described down below and the longer variation is described in the extra day's section.
Price Includes
Return transfer to & from the Mountain
6 Overnight stays in Mountain camping.
Professional & well experienced Mountain guides chef & porters
All Park fees & Rescue fees
All meals while on the Mountain
Guides, Porters, cook salaries and park fees
Clean, purified drinking water
Large portions of fresh, healthy nutritious food
Fair and ethical treatment of porters
Price Excludes
Accommodation in Moshi/ Arusha
Flight tickets
Sleeping bag, please bring your own sleeping bag or can be rent in Moshi at reasonable price
Tanzania Visa
Gratuity for Kilimanjaro climbing Crew (please tip separately)
Personal Expenses (e.g. laundry, telephone, beverages etc)
Meals not listed above
Travel insurance if applicable
Day 1

-Rongai Gate (1,800m/5,900ft) to First Cave Camp (2,600m/8,400ft) Elevation Gain: 760 meters, 2,000 feet
After an early breakfast in Moshi, drive for approximately 5 hours to the Rongai Gate near the Kenya border. After registering at the gate, begin your climb to Uhuru Peak, the roof of Africa. During the first day, hike through forests where you may see and hear wildlife. Eat lunch on the trail before continuing to the first campsite. Rongai ascends via the less forested northern side of the mountain. The Rongai Route is one of the least crowded routes on Kilimanjaro because of the long drive to the gate. The Rongai trail is thought to have the best chance of viewing wildlife.
Day 2

- First Cave Camp (2,600m/8,400ft) to Kikelewa Camp (3,600m/11,810ft) Elevation Gain: 1,000 meters, 3,280 feet
Day 3

-Kikelewa Camp (3,600m/11,810ft) to Mawenzi Tarn Camp (4,330m/14,200ft) Elevation Gain: 730 meters, 2,390 feet
Day 4

- Mawenzi Tarn Camp (4,330m/14,200ft) to Kibo Camp (4,750m/15,580ft) Elevation Gain: 420 meters/1380 feet
Day 5

-Mawenzi Tarn Camp (4,330m/14,200ft) to Kibo Camp (4,750m/15,580ft) Elevation Gain: 420 meters/1380 feet
Day 6

-Kibo Camp (4,750m/15,580ft) to Uhuru Peak (5,895m/19,340ft) to Horombo Hut (3,720m/12,200ft) Elevation Gain: 1,145 meters, 3,760 feet Elevation Loss: 2,175 meters, 7,140 feet
Day 7

-Horombo Hut (3,720m/12,200ft) to Marangu Gate (1,800m/5,905ft) Elevation Loss: 1,920 meters, 6,295 feet